Orthodontics At
Your Port Moody Dentist
Traditional and Modern Orthodontics
We know how important it is to feel good about your smile. Crooked or gapped teeth can zap your confidence, as well as your ability to enjoy the ease of normal activities such as eating and speaking. Rocky Point Dental offers orthodontic solutions for the city of Port Moody and the Coquitlam region. Our orthodontists are dedicated to finding the most effective solutions for your specific orthodontic needs, examining all options to help you weigh the costs and benefits before you make a final decision.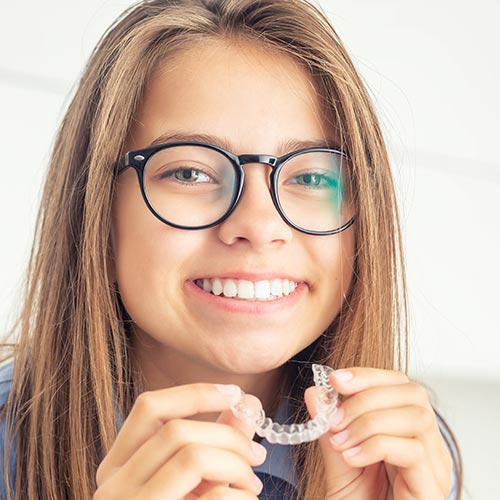 Clear Aligner Therapy
In the modern age, straightening the teeth can be achieved in many ways. One of the options our dental team at Rocky Point Dental offers to patients who are candidates is clear aligner therapy. Unlike fixed metal braces, which are traditionally used to straighten the teeth, clear aligner therapy allows us to make small changes to the teeth using a series of clear plastic trays.
Invisalign
Invisalign's clear aligner trays allow patients to straighten their teeth with nearly invisible orthodontic devices. Built to the exact specifications of your teeth, each tray provides tiny shifts in the teeth. As you trade in your trays for new ones every two weeks, you'll start to notice the differences in your smile. Invisalign is often referred to as "clear braces" because it combines the effectiveness of traditional braces with a removable and nearly invisible device.
Traditional Orthodontics
In some cases, traditional orthodontics (braces) remains the most effective treatment option for patients with alignment issues in their teeth or jaws. Traditional braces can be produced for children and adults alike, and modern materials allow us to design them to be aesthetically appealing. Our dentists can create various types of braces, from traditional metal braces and clear braces to lingual braces.
New Patients Always Welcome
Book Your Dental Hygiene Appointment Today!