Comprehensive & New Patient Oral Exam
Dental Exams in Port Moody, BC
We believe that preventative care is the simplest and most important way to avoid invasive dental procedures, similar to the way a healthy diet and exercise can reduce the risk of developing physical health problems like heart disease. Good dental hygiene and habits learned in childhood could help you and your family members avoid gum disease, gingivitis, losing teeth, and more.
The Preventative Value of Regular Dental Exams
Adults who are nervous about going to the dentist usually feel uncomfortable at the thought of drills, extracting teeth, and other invasive procedures. Fortunately, regular dental exams and teeth cleanings are not painful and don't use any of those invasive tools. Better still, the patients who visit a dentist regularly will minimize the future need for any further procedures, making their visits more straightforward and comfortable.
What to Expect During Your Dental Exam
Whether it's your first dental exam or your fiftieth, Rocky Point Dental follows the same basic steps in an exam and teeth cleaning visit before moving on to any specialized care. If you're a new patient in our office, we'll help you fill out basic health information when you arrive. Next, one of our dental hygienists will help you get comfortable in a reclining chair, explaining each step as your exam progresses.
We often begin by taking digital X-rays using a very low, safe level of radiation to take a "snapshot" of your teeth and jawbone. The dentist will review these images with you to check for proper spacing, alignment, and bone density on your upper and lower jaw. Finally, our dentist will inspect your teeth and X-rays. As you discuss the results together, you'll be able to plan your next exam or consider further treatment options for any cosmetic or restorative procedures.
Book Your Family's Oral Exams Today!
If you have questions or would like to schedule an appointment for you or your family members, please contact our team in Port Moody, BC.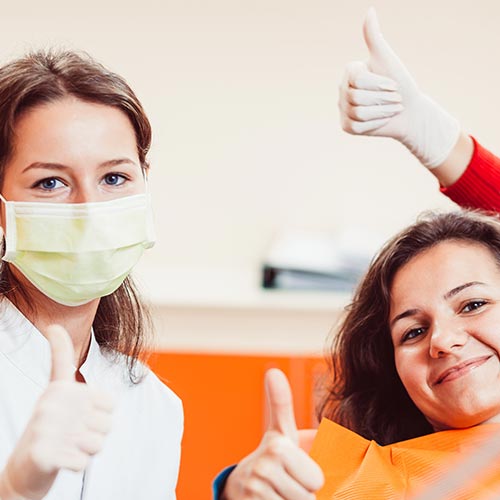 Dental Hygiene (Cleaning)
Dental Cleanings in Port Moody, BC
Annual or twice-annual dental exams from a professional can help us identify, avoid, or correct possible health or cosmetic issues early, minimizing the need for extensive treatment. For example, gently removing light plaque build-up on your teeth during an exam can prevent periodontal disease from developing, which can require a much deeper cleaning or even a loss of teeth and bone tissue. Be sure to book your family's oral hygiene appointments today for better health tomorrow!
Gentle, Compassionate Care from Our Dentists and Dental Hygienists
We are always eager to welcome patients on a regular basis to help them maintain the best possible oral health, now and into the future. Although many people cringe at the thought of an oral cleaning, our dental team is here to help change your perception of dental services by offering patient, gentle, and informative care. We always ensure that you know what to expect and that there is a clear channel of communication (even when you can't tell us exactly what you are feeling or experiencing using words!) Visit us for your next dental cleaning and exam to experience the difference for yourself.
When to Schedule Your Next Dental Appointment
We typically like to see patients 1-2 times per year for cleanings and exams. However, we will make a personalized recommendation based on your oral health, ensuring that you get the exact level of care required to keep your teeth healthy with preventative and restorative measures. Children as young as one year old are welcome to visit us for a gentle cleaning that gets them used to seeing us regularly; we will make sure that it is a positive experience!
New Patients Always Welcome
Book Your Dental Hygiene Appointment Today!